Fashion, Textiles & Jewelry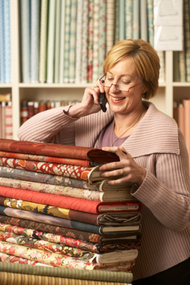 From textile materials to textile fabrics
Originally, the word textile meant a fabric which has been woven with a loom. Today, the word textile means so much more and it describes all types of fabric manufactured from sewing threads, wool, flax or linen. With different textile machinery, the textile raw materials are woven, knitted, knotted, twined or pressed into fabrics. Spinning and weaving mills spin the fibers into threads and weave the threads into fabrics. Nowadays, much use is made of synthetic fibers, such as nylon, a polyamide fiber, but also polyester, polyacrylic fiber, polyurethane, polyethylene and polypropylene. Rug and carpet manufacturers tie knots of thread onto a canvas to make mats and carpets. Felt is a textile material which consists of pressed loose fibers. This way, a fleece is made which we classify under non-woven textiles.
The treatment of textiles, such as finishing, coloring and decoration
Textile is treated in several ways, depending on its application, before it is introduced into the market. Some examples are textile finishing to improve its qualities, textile coloring, printing, flock printing of embroidery with patterns or logos, pleating and gathering and smocking.
The various applications of textiles: much more than clothing
Textiles are not only used to make clothing in clothing stores, such as ladies' clothes, men's clothes, children's clothes, baby clothes, underwear, lingerie, and knitwear, but are also used for other applications. In the clothing section, you'll also find industrial clothing and protective clothing, such as gloves for protection against cuts, bulletproof vests, and safety clothing for protection against hazardous materials, fallproof clothing, and clothing for protection against falling or splashing of objects. Under household textiles, you'll find household linens, such as table linens and towels, but also cleaning cloths, floor cloths, handkerchiefs, blankets, duvets and eiderdowns. Under furnishing textiles, you'll find a wide range of curtains, sun blinds, carpets and upholstery fabrics to cover seats, chairs and cushions.